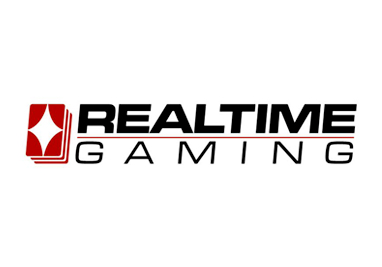 When it comes to online slots games RTG (Real Time Gaming) is a name that you will see often. This software company was established in 1999, and they have built a reputation as one of the best when it comes to developing casino software.
Literally hundreds of online casinos use RTG software which leads to huge progressive jackpots for players. Each online casino that uses RTG software will be a little bit different because the company allows the individual casinos to choose their own payout percentages. One casino may be paying out 97% for a game while another one may be paying out 99% for the same game.
Slot Games Offered by RTG
RTG has developed hundreds of slot games for your enjoyment. Some of the most popular slot games developed by RTG include the Real Series Slot Games. There are many different games and themes to choose from in the Real Series selection of slot games. The unique thing about all of these games is that they have Random Jackpots available.
Most games have two random jackpots that can be won – a maximum and minimum jackpot. You do not have to hit a winning combination to win the jackpots. You just need to be playing the game. The jackpots are awarded randomly throughout the day. You can win a jackpot at any time.
Many people take advantage of the autoplay feature that is offered on the Real Series Slot Games. This feature allows you to select an amount of money that you would like to wager and the games play out automatically. You do not even have to be at your computer to play. You can wake up in the morning to find that you have won a random jackpot while you were sleeping.
Automatically playing is not something I like to do, but many people do like it. I like the thrill of sitting in front of the computer screen and watching the games play out. Many Real Series Slot Games have bonus rounds that can be triggered. These bonus rounds take you through a scenario where you have to make choices along the way. The scenarios are based on the theme of the game you are playing. You can win a significant amount of money when you trigger a bonus round while playing Real Series Slot Games. You will not only cash in on extra money, but it adds to the thrill of playing the slot game.
Some people like to play simple slot games. They do not like all of the extra features of bonus rounds and multi-pay lines. RTG slots games has a wide variety of classic three-reel slot games available for these players. These games are simple to play and easy to understand. You will have one winning line. You press the spin button, and it is easy to tell if you have hit a winning combination.
Popular RTG Slot Games
As we mentioned earlier, RTG has many slot games available. The great thing about RTG slots is that you can always try out a free version of the slot game before you risk any real money if you choose to do so. We have a review of a couple of the most popular RTG slot games below:
Aladdin's Wishes - This is a five-reel 20 payline progressive slot game that features free spins and bonus rounds, and you will find characters such as Aladdin, the Monkey, the Genie, and Jasmine.
Aladdin is a wild symbol in the slot game and it replaces all other symbols, besides the scatter symbol, to complete winning combinations. You will trigger the free spin bonus when you get the scatter symbol, which is the magic lamp, on three or more reals.
Once you have triggered the free spins bonus you will be taken to a bonus round where you will get to choose a lamp. Each lamp comes with a different bonus. If you choose the magic lamp then you will be awarded 25 free spins. The other lamps will multiply your initial wager by amounts ranging from 2x to 100x. If your spin that triggered the bonus round produced four magic lamps instead of just three then you will get to choose four lamps in the bonus round that will significantly increase your winnings.
Caesar's Empire – This is a fun slot game that will take you back to Roman times with symbols such as Cleopatra, the Coliseum, Weapons, Caesar, and more. This is a five-reel slot game with 20 paylines. The great thing about Caesar's Empire is all of the fun extra game features.
The Caesar symbol is the featured wild symbol and it will take the place of other symbols to form winning combinations. If you happen to hit the Caesar symbol on the first reel and the Coliseum symbol on the last reel then you will trigger the free spins feature. The neat thing about this free spin feature is that every time that you get the Caesar symbol during the free spins it will trigger more free spins. So you can end up with a lot of free spins.
This is also a random jackpot game so you can win a random jackpot at any time just for playing the game. There is no winning combination for the random jackpot, it is just awarded randomly.
You can play these fun games and many more at the Bodog and Slots.lv casinos. These casinos feature the RTG software. Please visit Slots.ca often to keep up with the latest slot game offerings from RTG.