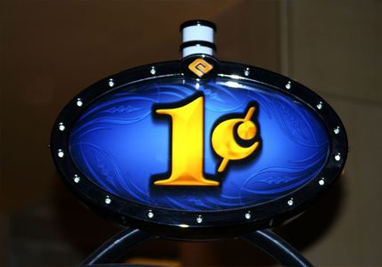 Penny slots games are a huge attraction for players on a budget, but the title can be misleading. Most penny slots games are designed to encourage players to bet on multiple lines and bet more than one penny per line. If you are playing on a 20-line penny machine and betting $.05 per line then you are actually betting $1 every time you spin. This is why I say that the title is misleading.
Many penny slots have progressive jackpots that can be won. However, you must be betting the maximum amount in order to win the progressive jackpot. Penny slots can be fun, though. I just wanted to make you aware of how the games work. You can actually play a game for a penny by choosing to only bet on one pay line and only betting one penny, but you probably won't win much.
Penny Slots Jackpots
Many penny slots games come with a hefty jackpot. The trick to this is that you must be betting the maximum amount to win the jackpot. A few years ago I was playing at a land-based casino. I had been playing Texas Hold'em Poker for hours, and I decided to take a break and play some slots. I saw the penny slots and decided I would try them.
I sat down at a slot game and played a few rounds. The maximum bet was $4.50 a spin and I didn't want to bet that much. So I was playing for less. A few spins in the machine went crazy with bells, and I won $150. I was thinking "Wow I just won $150 on a penny slot machine." Upon further investigation I found out that if I had been betting the maximum amount I would have hit the progressive jackpot which was $2.7 million. So, if I play any slot game now I always make sure I bet the maximum amount.
The maximum amount at penny slots games can be expensive depending on the number of paylines that are available. It is sometimes cheaper to just choose the $1 slot games compared to the penny slots games.
Now that you know the rules let me say that there is a lot of money to be won playing penny slots. You just need to have the budget in order to bet the maximum amount. I would hate for anyone else to have to experience the sick feeling I got once I realized that if I had been betting just $2 more I would be a millionaire.
Penny Slots Game Bonus Rounds
Penny slots games can be some of the most fun slot games to play. If you like to have many opportunities to win then penny slots games might be the game for you. You will not only be betting on multiple pay lines with a chance to win on each of those lines, but many of these games also have bonus rounds.
A bonus round is usually a separate game that is triggered once you are playing the slot game. The way the bonus game is triggered varies depending on the slot game you are playing. Once you trigger the bonus round you will play a game which will award you extra money, free spins, or both. Bonus rounds can significantly increase your winnings, and they are fun to play.
Penny Slots Game Rules
Each penny slots game is different. It is always best to look over the rules before you play. Since you are betting on multiple paylines and there are multiple ways to win, it can become confusing. You might want to play the free money slot games first to get the hang of the game before you begin playing for real money.
You will want to know what characters give you winning combinations and how much you win once you hit these winning combinations. You will also want to know how to hit the progressive jackpot if there is one available. Last, but not least, you will want to know how to trigger the bonus rounds as these can be the best part of playing the slot game.
Should I Play Penny Slots Games?
Playing penny slots games can be thrilling, you just want to make sure that you have the budget to play these games. As I said earlier, you will want to be able to be the maximum amount and on some of these penny games the maximum amount can be pricey. I love to play penny slots games, but I make sure I know everything about the game before I start to play it.
We here at Slots.ca can help you choose which slot game is right for you. We will show you where you can play penny slots games for free so that you can decide for yourself the game that is right for you. The free games will get you familiar with the game so that you will know how much the maximum betting amount is, what triggers the bonus round, and how you can win the progressive if there is one available.