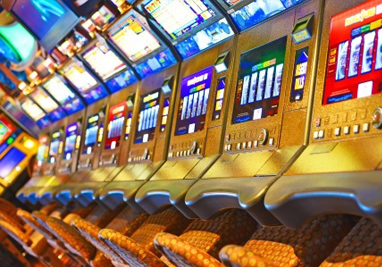 Slots games have been around since 1891 when Sittman and Pitt introduced the first slot machine. It was based on the game of poker and had a total of 50 cards. The game instantly became popular. Many bars installed slot machines. In the early days the machines did not have a way to pay out money so the players would insert their nickel and pull the handle on the side. If the cards landed on a winning poker hand then the player would let the bar owner know and the player would receive prizes like free beer or cigars depending on what the winning hand was.
Computer technology has greatly advanced slots games capabilities. The basic idea remains the same though. You insert your money and press a button or pull the hand to roll the wheels and if it lands on a winning combination you win.
Slot players today can choose from a wide variety of slots games. Almost all slots games are operated by computers today. You can choose from classic three reel slots games, five reel slots games, bonus slots games, progressive slots games, and mobile slots games. These games have a variety of themes and betting amounts.
Regardless of the type of slot game you like to play, Slots.ca can help you find a slot game that is right for you. We stay on top of the slots games that are offered including new slots games and progressive jackpots so that you don't have to spend a lot of time searching to find the best slot game for you.
Classic Three Reel Slots
These slots games have stood the test of time. They still have the basic concept that they had when they were introduced in 1891. You spin the reel and hope for a winning combination. Many people enjoy the classic three reel slot game because it is easy to tell when you have a winning combination. It can sometimes be difficult to tell if you have hit a winning combination on the multi-pay line slots games.
Five Reel Slots Games
Five reel slots games became instantly popular after they were introduced, and they are still some of the most popular slots games today. These slots games gave players the opportunity to bet on multiple paylines. Every time a player would spin the reels they would have more than one opportunity to win depending on how many lines they were betting on.
This increased the chances at hitting a winning combination so many people chose these games opposed to the three reel slots games. Most games originally had a fruit theme, but today you will find many different five reel slot game themes.
Progressive Slots Games
Progressive slots games were introduced in the 1980s. These games require technology that was not available before then. Progressive slots games are slots that are linked to other slots games. Each time a player plays on any of the slot machines that are connected to the progressive jackpot, the jackpot builds. This was a huge advancement in the casino world.
This allowed land-based casinos to connect with other land-based casinos to build huge jackpots to attract players. A percentage of every spin goes into the progressive jackpot and it keeps building until a player hits it. The jackpot starts all over once it has been hit.
This same concept is true for online slots games. The progressive jackpots build quickly online because there are millions of players playing at these slots games. Here at Slots.ca we track the largest progressive jackpots for you. You will never have to search to find a big jackpot. You can just visit our site and see where to win the big bucks.
3D Slots Games
If you have never played slots games online then you are in for a treat. The graphics and sound effects give you a feel of a land-based casino. It is so realistic that you might forget that you are playing at home instead of actually at a casino.
The latest advancement in online slot graphics is 3D slot game technology. There is nothing more thrilling than a character jumping out at you on your computer screen when you have hit the winning combination to play a bonus round.
Bonus rounds usually allow you to play out a game or a scenario that is separate from the regular slot game. You will win free spins or money when you trigger a bonus round depending on the game you are playing. Bonus rounds can substantially increase your winnings, and they are fun to play.
Mobile Slots Games
The latest technology that online casinos have available enable you to play slots games directly on your mobile device. Your smart phone or tablet can instantly become a portable casino that you can play anywhere.
You will be able to play many of the same slots games that you play on your computer. Online casinos are offering more and more mobile slots games every day. The software for the mobile games has been optimized to play out smoothly on your mobile device.
We here at Slots.ca will keep you informed of the latest mobile slots games available. We keep track of all of the latest slot developments so that you don't have to search the internet to find information. Come back often to keep abreast of the latest online and mobile slot news.