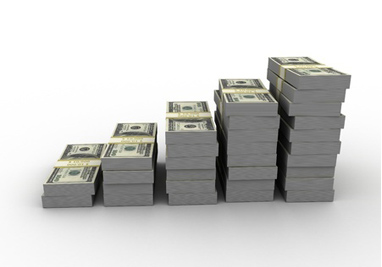 Progressive jackpot slot games are a major attraction for slot players. You can win life-changing money by hitting a progressive jackpot. There are a few different kinds of progressive jackpots available. Standalone progressive jackpot slots have a jackpot connected to that one machine and it grows each time a player plays the machine.
There are also progressive jackpots that are connected across the casino. These progressive jackpots increase every time players play any of the machines that are connected to this jackpot. The major progressive jackpots are connected across many casinos. These progressive jackpots increase every time a player plays at any of these particular slot games, at any casino connected to the network.
Regardless of the type of progressive jackpot game you choose to play, the jackpots grow significantly every day. I have seen online progressive jackpots up to $5 million. I can't even imagine what I would do with $5 million, but I would like to have the opportunity to figure it out.
How to Win Progressive Jackpot Slots
The first thing that you should do in order to win a progressive jackpot at a slot game is choose a game that has a progressive jackpot. You will then need to make sure that you have the budget to bet the maximum amount. You cannot win the jackpot if you are not betting the maximum bet.
Unfortunately there isn't a strategy to winning progressive jackpot games. The odds of winning are completely random. Computers use random number generators to produce the results each time you spin.
The best strategy, per se, to winning a progressive jackpot slot is choosing a slot game that you feel lucky about. Make sure that you bet the maximum amount every spin, and have fun. Having fun is the main goal in playing online slot games. Even if you don't hit the progressive jackpot, there are some hefty prizes to be won by just hitting other winning combinations.
What Progressive Slot Game Should I Choose?
You will need to choose a progressive slot game where you understand the rules. All games are different. Some games will have bonus rounds and some games have multiple paylines. You will need to be sure that you understand how you can win the progressive jackpot and understand how you win other prize amounts.
If you have read the rules and you are still unclear about how you win then you can always choose to play the free version of the game until you are comfortable playing the game. If you still don't feel comfortable with the game after you have read the rules and played the free version, then I suggest that you choose another progressive jackpot game that you understand.
It is more thrilling to play slot games when you know the combination you are trying to hit in order to win. Some slot games can be confusing because the pay lines are everywhere and it is hard to tell if you have won anything or not. Of course, whether or not you know if you have won or not the computer knows and you will be paid regardless. It does take some of the thrill out of the game though if you do not understand how you won.
Are Large Progressive Jackpot Slots Due to Hit?
A theory among many slot players is that if a progressive jackpot slot game has not been hit in a while then it is due to hit. The reality is that there is never a certain time that a jackpot it due to be hit. Theoretically a jackpot can be hit back to back. This does not happen very often, but it could.
The results of your spin at an online slot game are produced by a random number generator. This means that the results that you get are completely random every time. With that being said, you have the same chance at winning a progressive jackpot that was won yesterday as you have winning a progressive jackpot that has not been won in six months.
You should choose a progressive jackpot game that you feel comfortable playing. It is fine if you choose the largest jackpot game available. The choice is yours. You just need have fun playing the game and play within your budget so that you can bet the maximum amount. We wouldn't want you to bet less than the maximum amount and miss out on the progressive jackpot if you hit it.
Here at Slots.ca we keep track of the best progressive jackpot games available online. We also keep track of the best deposit bonuses to keep you playing longer so that you will have more chances of hitting that progressive jackpot. Visit us often to check in on the largest jackpot amounts and the best bonus offers.